Do you want to control any electrical device on/off on your smart phone? If you also have this idea, ok, this 'Lazy Bone' is exactly what you need. 'Lazy Bone' is a new product of Tinysine Electronics, which has a good performance of stablity and it's very easy to use. It can control a lamp, router, fan and other electrical equipments on and off by the Android/IOS phone or PC.(IOS only support WIFI Lazybone, Please notice that.).
Now we released LazyBone V2 support instantaneous function. You can set your Lazybone output a 100ms-20s pulse. It's can be used to control your garage-door or some other equipments.

Software Installation:

It has 2 basic version: Bluetooth and WIFI. And this is the Bluetooth LazyBone. If you want a WiFi LazyBone click here.
We provide a free Android APP for you to control it.

How to use the software:
Normal mode:

1. Click the APP, if your phone bluetooth is not open , it will indicate to open it.

2. Click the Menu and then 'Connect device' . Phone will detacte the bluetooth device automaticly, and input the PIN number:'1234' (will auto connect next time).

3. Now can control the device on/off by press the on/off button displayed.
Instantaneous mode:
1. Click the Modes, You will entering mode setting page.

2. You can set the pulse time (100ms-20s). And turn on Instantaneous mode.

3. Back to main page, now you click the button it will have a pulse ouput. Turn on->keeping a while->release.
Cable connect diagram:
'LAZY BONE' has 2 kinds of working mode:

Self power mode:


Wireless switch: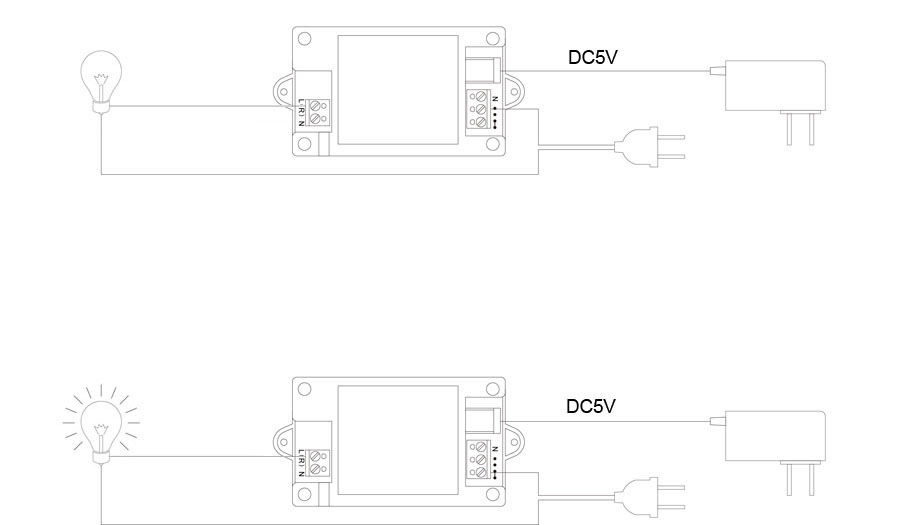 Commands
We also provided a very simple command set for developer developing their own APP. The Lazybone operates with an easy to use command set as described in the table below.

Features:
AC100-240 or DC5V working voltage.
Current rating of up to 10 Amp.
Control distance:25m (outdoor)
Support Android: Above V2.2
Download:
Smart Phone Controlled Switch - LazyBone V2 (Bluetooth)
Product Code: TY-320
Availability: In Stock
all product photos are for illustrative purposes only !