John Jay based in Georgia, USA, is a retired engineer who designed some boards for the Raspberry Pi to help his partner to learn Raspberry Pi. Although at first it was a small act that just for his friends, but with the growing people in the open-source community participating, more and more people find that these packages really works.
This Step Your Pi Kit uses 8 I/O pins of Raspberry Pi to drive up to two stepper motors, it is designed to make it super easy to get to grips with using stepper motors and the Raspberry Pi. The kit plugs directly into the GPIO connector on the Raspberry Pi, utilises a ULN2803A IC to drive up to two stepper motors via 8 I/O pins, and has 8 bright indicator LED's.
The jumper shipped with the board allows the stepper motor to use the +5V from the Raspberry PI. If you use a different stepper you can remove the jumper and supply up to 12 volts to the center pin and connect ground to the pin that had no connection. Please refer to the Solder Guide.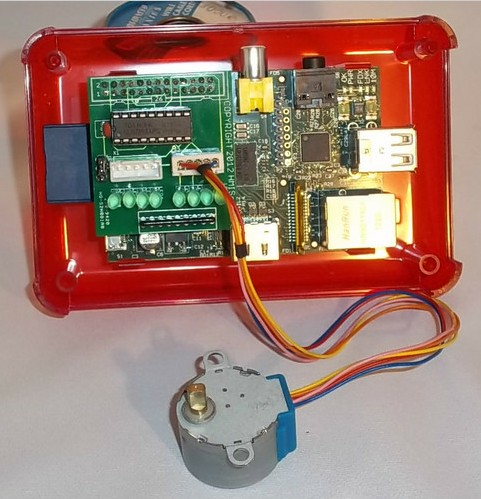 Part list
Step Your Pi board x1
Driver IC x1
IC Socket x1
Green LED x8
Stepper Connector x2
Cap x1
26 Pin Connector x1
3 Pin Female Connector x3
Jumper x1
Gasket x1
NOTE: Stepper Motors ARE NOT INCLUDED!
Resources
Step Your Pi !
Product Code: EC-365
Availability: In Stock
all product photos are for illustrative purposes only !